Rebecca Traxler wants homeowners to fall in love with their homes. "We work so hard to live where we do. My goal is to make people feel inspired in their own homes," she says.
Inspiration comes easy at Ocean Tile Gallery, the beautiful designer showroom Rebecca opened last summer in Westerly. Featuring the latest trends and materials, the incredible 3,000 square foot storefront showcases a seemingly endless collection of tile, flooring, and countertops. "The feedback has been terrific," Rebecca says. "I love when customers walk in and are amazed by the selection here, and tell me how 'beautiful' the space is. That's exactly what I was trying to achieve with Ocean Tile Gallery."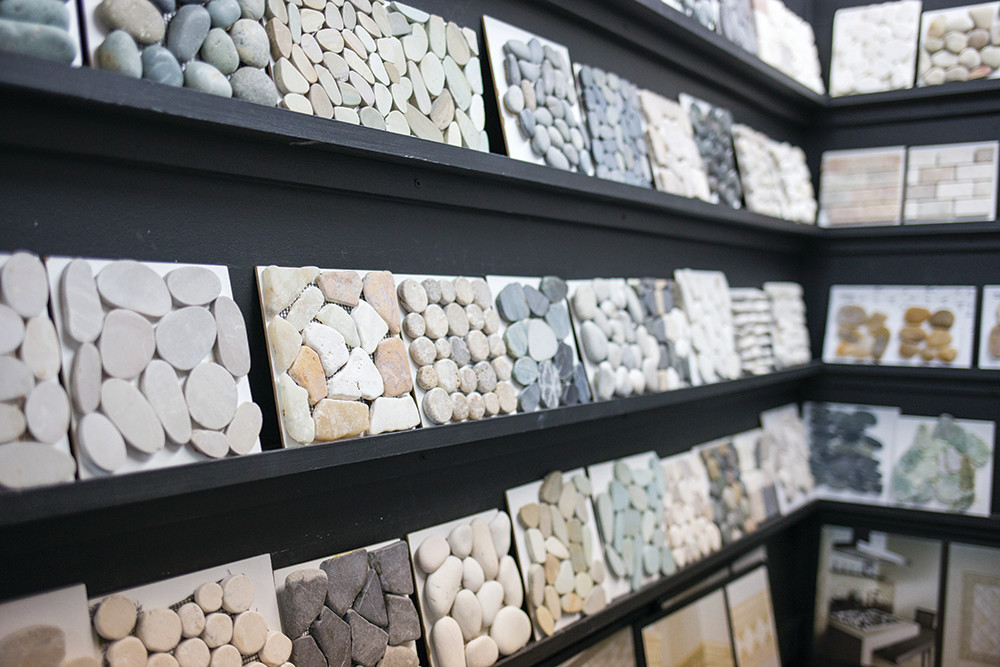 Rebecca began her impressive career in flooring over 15 years ago. "I've always been fascinated with how people live," she explains, adding that as a child she dreamt of somehow working with people in their homes. A self-described "people person," Rebecca spend nearly two decades in leadership roles in the hospitality business when an opportunity to work in a flooring company came her way. "I jumped at that opportunity," she says. "I instantly knew that the construction and building industry was for me." Mixing a love of working with people with a passion for design, Rebecca quickly became enthralled with the highly-creative field. "I especially love how versatile tile can be, and how creative you can get with it." She opened her first business, Eastern CT Flooring in Groton, CT, shortly thereafter.
"Becoming a business owner in 2005 was a dream come true. It's a lot work, but when you love what you do it doesn't feel like work," she says. With a determined mindset and a personal approach, Rebecca built a highly-reputable business that serviced both commercial and residential clients. Within a few years, her solid reputation and customer referrals allowed for the business to expand throughout Connecticut and into Rhode Island. "I began getting more and more inquiries from RI, especially from builders who knew of my work," she says. When the perfect spot in the heart of Westerly became available in 2017, Rebecca once again took the leap.
"I'm committed to community, both as a small business owner and a nearby resident," she says, adding that she recently joined the Ocean Community Chamber of Commerce. "Independently-owned businesses help to create the unique and charming character of Westerly. I'm looking forward to developing more relationships with other like-minded businesses."
Staying ahead of industry trends has been one of the keys to her continued success. From attending trade shows to building relationships with local building and remodeling professionals, Rebecca prides herself for staying informed in the flooring industry. "Education is so important, especially in an industry that is always innovating with new ways to use materials," she says, adding that educating her clients is also a priority. "I value the meaningful relationships I have with my clients, and empowering them to make the right decisions is important to me."
A creative problem solver, Rebecca aims to "marry the people with their house" by taking the time to really get know her customers' design goals and needs. "I really do look to create a harmonious union between people and homes by finding the right design that matches their lifestyle," she says. Her goal is to always give the client what they want, regardless of budget. "That's where I really get creative," she says. "I always feel like I'm leaving my artwork behind in someone's home, but at the end of the day it's their home. I'm committed to making their visions come true."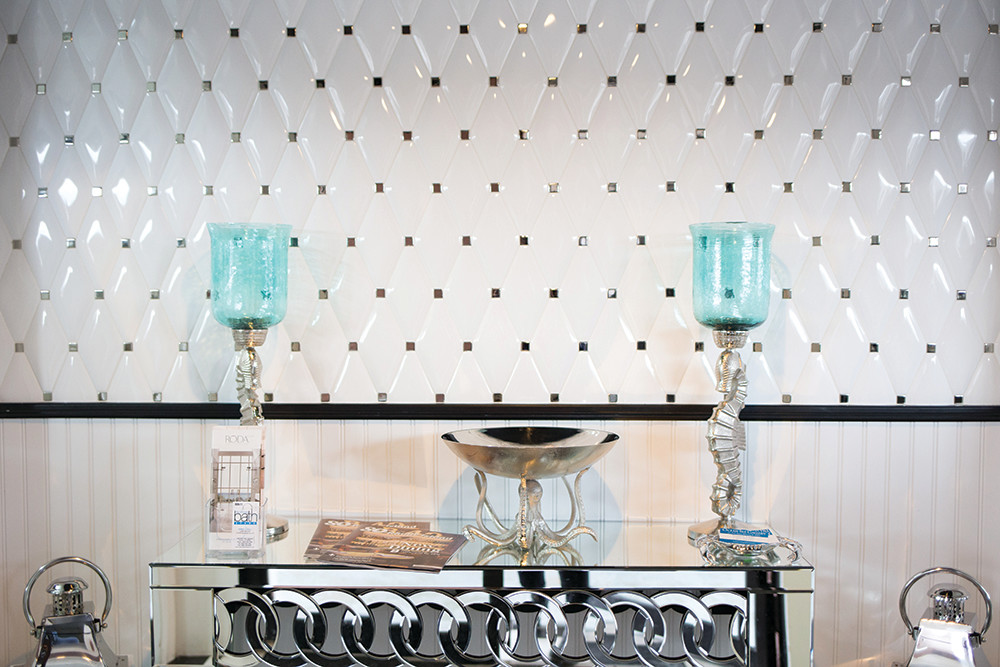 As she approaches the one-year anniversary of Ocean Tile Gallery's opening, Rebecca reflects on the determination it took to get here. "I'm proud to have built this company from the ground up, and to have done it on my own," she says. "The building and construction industry has been predominantly owned and run by men. It's inspiring to know that I have had a part in changing that." To that end, Rebecca continues to encourage women to pursue leadership roles in the construction and building profession. "Women are making more of the home-related decisions in their houses, and I've found that they are quicker to trust another woman when it comes to aesthetics, budgets and more."
With an unmatched work ethic and a relentless desire to improve how people live in their own homes, Rebecca continues to pave her own path of success.
271 Post Rd., Westerly
|
322-7000