"I've been called 'guardian angel' and 'dream maker' by my clients," says interior designer Kim Elliott-Peterson. The ideal living space is different for everyone - but not everyone can take their dreams and create them in reality. That's where Kim can help. The owner of KEP Interior Designs has over 20 years of helping people create their dream spaces.
"I love feeling like I'm helping clients to love the place they live or work in," she says. "I love the trust that people put in me to bring their dreams into reality."
Kim holds a BA in Textiles and Design from URI, and, she says, "a good mix of color and texture is what drives most of my designs." Being a self-proclaimed color junkie, she loves the process of color placement and coordination. Her training in the psychology of color is a great asset to her ability to match and pair colors for any given use. Kim is not only able to choose shades, but is always cognizant of color hue, value and saturation, and how colors and textures combine for the greatest effect. The use of textures such as grasscloth wallpaper, heavily woven linens or silks with deep sheens, combined with a mix of patterns, make Kim's designs visually appealing. Her attention to detail and the mixing of fabrics make each design unique and special. Her concept-to-use design packages include everything from furniture selections and room layouts to accessories, artwork and the final touches that make a space feel "done."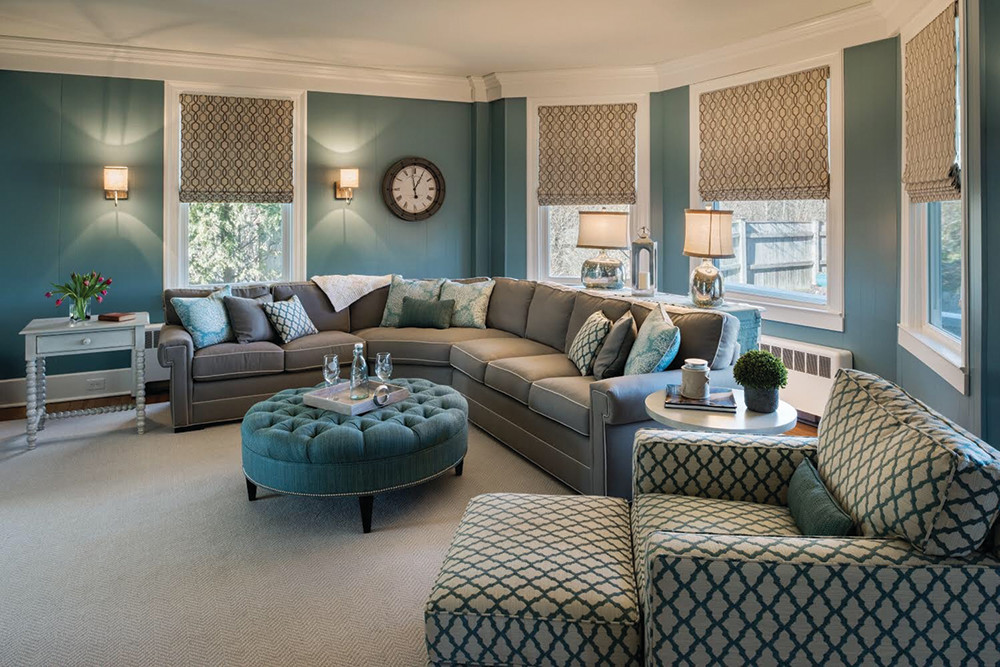 Kim's work is so well regarded that she has had several projects published, and has won awards from trade shows and magazines both locally and nationally. "Design comes with natural ease to me, and has since I was a child," she says. Kim runs her business out of her home studio in West Greenwich, but works with clients all over Rhode Island, MA, CT and FL. Currently, she's working on several projects, some of which are large scale.
People often assume that you should only call in design help when doing a major home overhaul, but Kim often works with clients who are just looking to refresh one room, or even one part of a room, and believes that it's her job to alleviate stress for her clients. "I like to make people comfortable working with a designer," she says. "I'm happy to work with anyone who feels the need for help with a design project. I love large comprehensive projects, but smaller projects are fun, too."
For Kim, one of the best parts about living and working in Rhode Island is being able to work on historic buildings. "I enjoy working with all different types of people who have different tastes, budgets and styles of living," she says, "But I'm most proud of my work on historical properties. I love being part of the further years in homes that have such long pasts and histories."
West Greenwich | 451-8922