Sure, you can go to a liquor store and buy a bottle of wine. You can even buy two (hey, we're not judging). But one of the biggest reasons we're lucky to live in Southern New England is how easy it is to be connected with our local growers and food makers. Visiting local vineyards means a chance to see where and how local wines are made - but it's also about so much more than that. It's about gathering with friends, tasting new things, hearing live music, enjoying a cheese plate and more. There's no better time to enjoy southern New England's wine country than during the harvest, so dive – or should we say sip – right in.

Newport Vineyards, Middletown
Most New England wineries focus on select varietals of wine, but not Middletown's Newport Vineyards. Their philosophy is that more is better - and given the winery's huge expansions over the last few years, it's safe to say that philosophy is working. Originally planted in 1977 by brothers John and Paul Nunes, Newport Vineyards has become a hub in Middletown for people looking for a connection to locally produced foods (or just people looking to drink really good local wine). They now have two vineyards on Aquidneck Island; operate a fine dining restaurant called Brix, named after the measurement of a wine's alcohol level; and host a weekly farmers market year-round. Last year, the brothers expanded their tasting room, adding a patio overlooking the vineyards that's just begging to be Instagrammed, and their Vineyard Cafe, where you can get prepared lunch items or cheese plates. All that is in addition to seven reds available by the bottle, like the mid-bodied Rochambeau Red that's just as drinkable in warm weather as cold; 17 whites, like their unoaked, irresistible In the Buff Chardonnay; and three blush wines, including a Dry Rosé (which just won gold at the Atlantic Seaboard Wine Competition) that's exactly as popular as you'd expect it to be given the certified Rosé Phenomenon happening right now.

What to drink now: Landot Noir
"It's the perfect wine for Thanksgiving," says vineyard manager/owner Paul Nunes. "This wine fuses together the bright and jammy fruit notes of strawberries and red plums that you'd expect in a Zinfandel, but with a soft and smooth body that's more similar to a Pinot Noir." Landot Noir, he says, matches turkey with cranberry sauce perfectly, and desserts pair well with the fruit notes of the wine.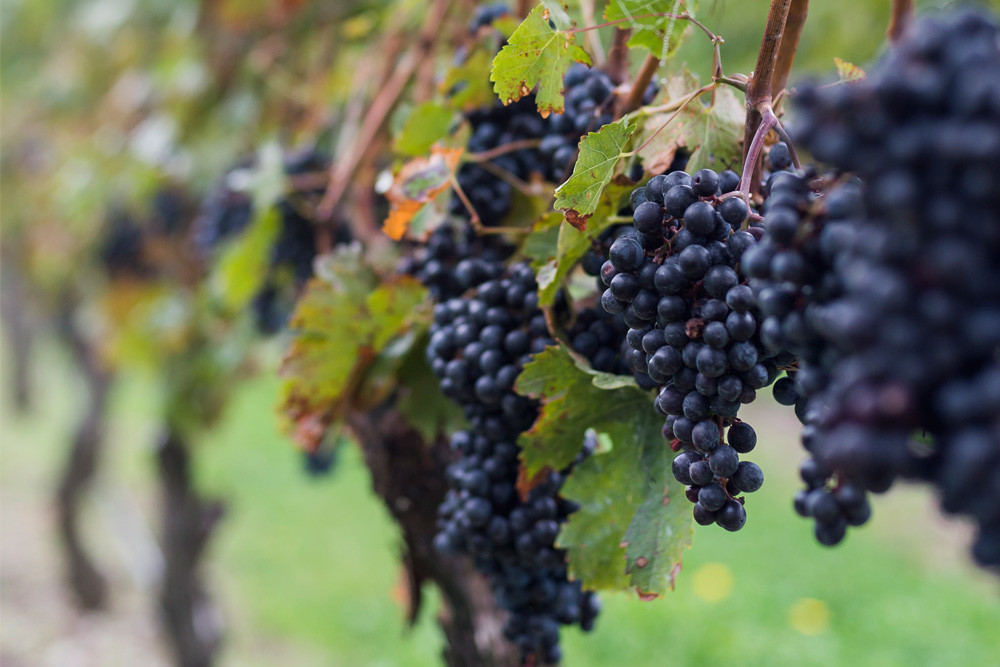 Greenvale Vineyards, Portsmouth
Growing grapes on land that's been in the family since 1863, Greenvale Vineyards in Portsmouth is a winery that's committed to historic preservation – their tasting room is a renovated old barn – and sustainable practices. They produce about 3,500 cases annually from their 27 acres overlooking the Sakonnet River. The water view is one good reason that a visit on a fall afternoon is a good idea; their wine is another good reason (well, actually, several good reasons). Of the 70 tons of estate-grown grapes the vineyard produces each year, Greenvale makes eight varietals of wine. Six are white, including their popular Vidal Blanc and the Chardonnay Select, which has a touch of oak that makes it perfect for fall sipping. Two are red, including the Elms Meritage, named after the Newport mansion.

What to drink now: 2012 Cabernet Franc
"It's a beautiful, medium-bodied red with a nice long finish," which makes the newly released wine easy to pair with most fall meals, says vineyard manager/owner Nancy Parker Wilson. "It's great with Thanksgiving dinner, and with salmon with a mustard dill sauce."

Westport Rivers Vineyard, Westport
Champagne is the most celebratory of drinks, but it shouldn't be reserved for just celebrations. That's the philosophy at Westport Rivers Vineyard, which is known all over the country for their standout sparkling wines, like their signature RJR Brut, named after owner/winemaker Bill Russell's father, and their dry, off-pink Blanc de Noirs. Westport Rivers blends ancient winemaking practices from the Champagne region of France with sustainable, locally minded farming. This year, the wine on everyone's mind has been Rosé, and this vineyard is no exception: they released a new varietal, Mayflower Rosé, and a Rosé version of their Farmer's Fizz – halfway between still wine and sparkling – which has already sold out for the season. On November 25, Westport Rivers is hosting their annual Open House: there will be discounts on wine tasting and on cases of wine, in addition to food trucks, tastings from local food makers like Shy Brothers Cheese, and spiked cider. To keep the kids occupied while you taste, there will be hayrides, hot cocoa and fun games.

What to drink now: 2007 RJR Brut
"It's the bubbly we're best known for," says winemaker Bill Russell. "I like it in the fall, when it starts getting a little cooler; it gets a sweeter flavor." He recommends sparkling wine with any fall food, but especially soups, for the contrast between the textures. "Any given Wednesday or Thursday is a good time" for sparkling wine, he says. "I think dressing up pizza with a nice bottle of fizz is the perfect thing to do."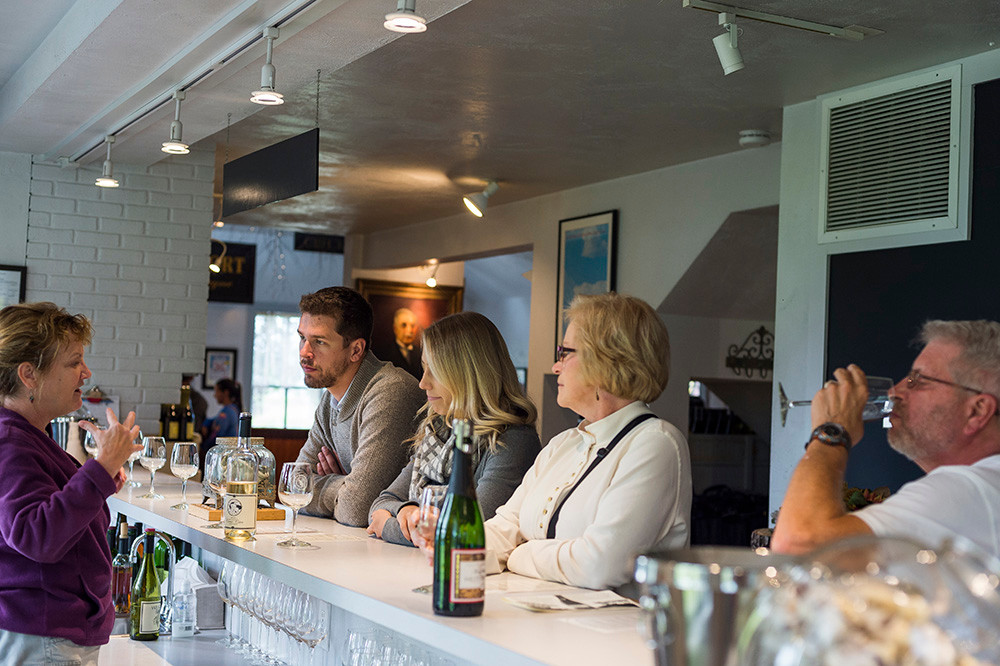 Carolyn's Sakonnet Vineyards, Little Compton
When Alex and Ani's Carolyn Rafaelian purchased Sakonnet Vineyards in 2012, the beloved Little Compton winery got a little bit of a makeover, and a big infusion of positive energy. What's now Carolyn's Sakonnet Vineyard is a destination in the summer for people wanting to hear live outdoor music and soak in the sun - and good vibes - but the later fall is the time you really want to visit, when the crowds are smaller and the harvest is in full swing. The vineyard produces seven whites - with names like White Lotus, which is a Gewurztraminer, and Unexpected Miracles, which is an 18-month oak aged Chardonnay - and three reds, including the full bodied Blessed Blend, made with Cabernet Franc, Lemberger, Merlot and Cabernet grapes. A sparking Blanc de Blancs, three sweet dessert wines and the Sacred Rose, made with 100% Cabernet Franc, round out the offerings.

What to drink now: Rhode Island Red
The medium-bodied blend has been a vineyard favorite for years, and won big three years running at wine competitions in Los Angeles, the Finger Lakes and more. Because of its fruit notes of blackberry and its touch of sweetness, it pairs well with almost anything, from a barbecue to turkey with cranberry sauce.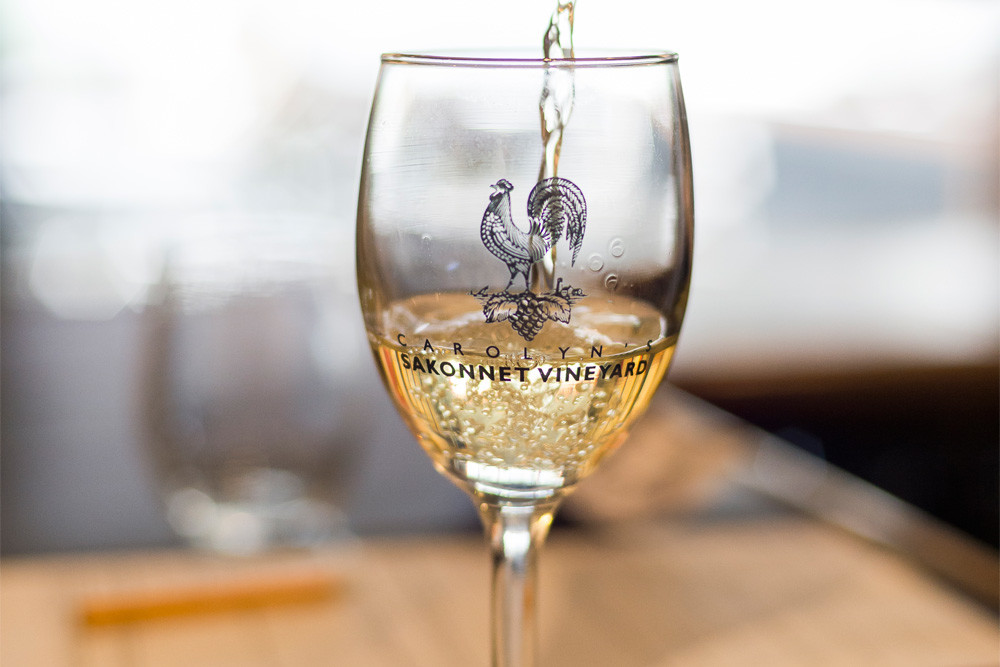 Running Brook Vineyards, North Dartmouth
Running Brook Vineyards in North Dartmouth has distinctly Old World influences. The owner/winemaker, Pedro Teixeira, grew up in the Azores, and carries that Portuguese background over to his work making New World wines that have some unusual interest factors. The Aroma Red Chiero and Jeropiga, a fortified white, are both strongly influenced by Portuguese wines. Running Brook also bottles whites like their unoaked and oaked Chardonnays and Vidal Blanc, and red blends like their Pinot Red and Cabernet Franc Merlot.
Last year, Running Brook released a new line of spirits distilled from their wines. RB Distillery makes several varieties of Black Sheep Brandy (similar to Portuguese Aguardente), as well as Rosé Grappa and brandy-based flavored liqueurs in flavors like cinnamon, anise, mint and different fruits. On weekends, Running Brook brings in live entertainment and food trucks.

What to drink now: Red Barrel Chardonnay
What started as a solution to a problem – they had too much wine and not enough barrels to store it in – has now become a vineyard favorite. "We don't think anybody else has ever made anything like it," says vineyard manager Ian Edwards. Because the white wine is aged in red wine barrels, they treat it like a red wine, and serve it at room temperature. "I call it our shoulder season wine," he says, "when you're not quite into that full-on chill of a white but not quite ready for a deep red. It really is a wine that checks off those boxes."