All Summer Long
Live from Barrington, it's the 2018 Summer Concert Series! Outdoor concerts are popping up at alternative locations, Latham Park and Barrington Town Beach, every Sunday at 6pm from July 8 through August 19. Look forward to the rock and roll styling of RI's own The Becky Chace Band (July 22), the hot horns of Brass Attack (August 5), the sweet R&B sounds of Roger Cersei's All Starz (August 19), and more. Barrington

We have three words for you: clam shack weather. Blount serves up stuffies and lobster rolls in Warren and Crescent Park in East Providence, Flo's Clam Shack will have you squeezing lemon over piles of clam strips in Middletown and Portsmouth, and Evelyn's Drive-In has a two pound seafood platter waiting whether you pull up by car or boat. This is New England eating at its best, plus it's all finger food. What more could a kid want?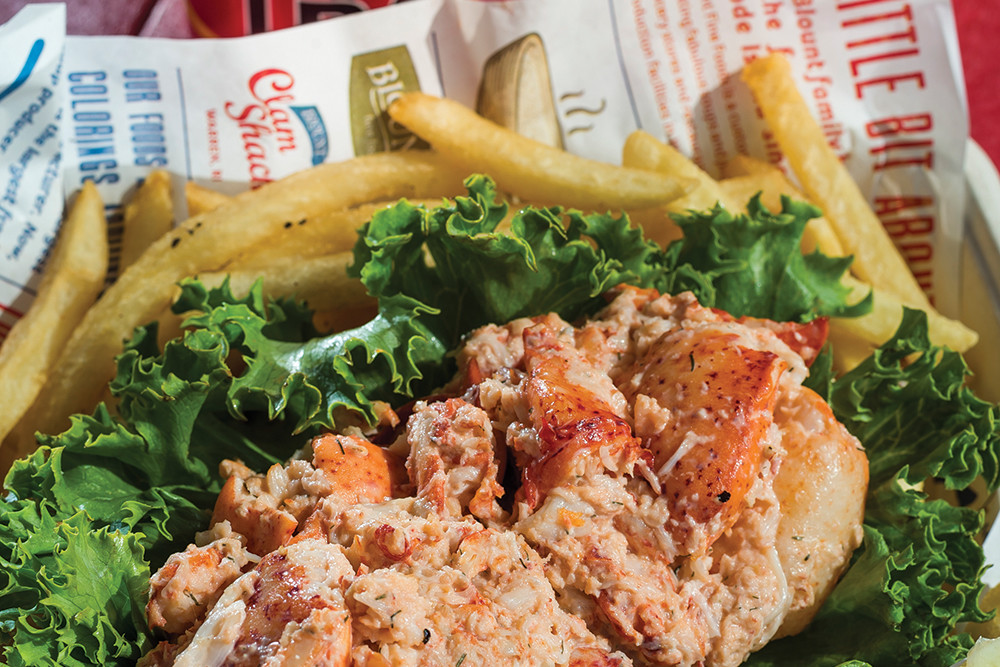 Photo by Stacey Doyle

After a pilot season late last summer, Bold Point Park is pulling out all the stops and kicking out all the jams this year. Dropkick Murphys and Flogging Molly (June 16), The Roots (July 1), Halsey (July 11), and Michael Franti & Spearhead (July 18) are just a few of the headliners at the state's newest outdoor concert venue. For the little rockers in your life, Kidz Bop Live will be belting out kid-friendly renditions of pop hits on August 24. East Providence

For high octane action, look no further than Seekonk Speedway. With weekly races, and special events like Friday and Saturday night races, the Independence Day and Mid-Summer Thrill Shows (July 7 and August 4), and Monster Truck Madness (July 21), there's plenty of speed and mechanical muscle to go around all summer. And if you've got a vintage itch, the Seekonk Flea Market sets up shop next to the race track every Sunday. Seekonk

For a tropical getaway that's technically in Mass (shh, we won't tell), consider a day pass at the Hillside Country Club in Rehoboth. While you kick back and sip on fruity adult beverages at the tiki bar, the kids will be gleefully distracted by the salt water fun pool and its two water slides. Top us off, barkeep; the kids aren't pruned up yet! Rehoboth

If your kids love animals and fast-paced, action-packed sports, they'll probably love polo. Newport Polo, the nation's oldest polo club, takes on domestic and international challengers while on majestic horseback all summer long. Portsmouth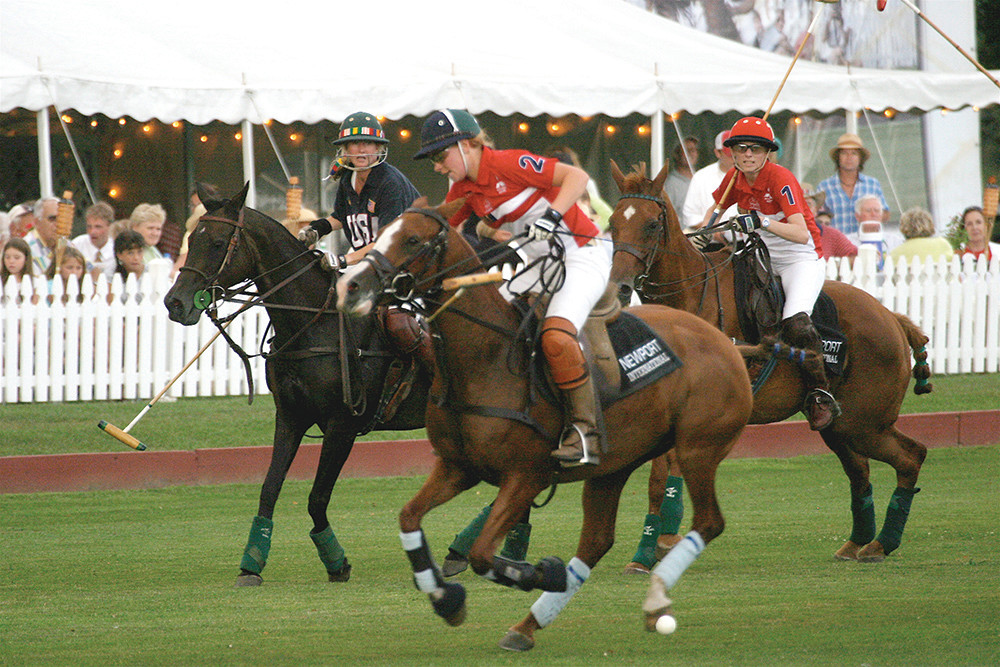 Photo courtesy of Newport Polo

The East Bay Bike Path is the jewel of the Bay's summer crown. It has everything: beautiful views, immediate access to Colt and Haines Memorial state parks, ice cream at Dari-Bee, Daily Scoop and Gray's, Del's, and artisanal coffee and treats at Borealis Coffee Company. All that and you manage to trick the kids – and yourself, let's be real here – into some exercise. And with RIDOT's resurfacing plans scheduled to be wrapped by the end of June, the riding will be the best it's been in years.
Save the Dates
The Collaborative brings the Warren Folk's Fest back to 30 Cutler Street for another day of art and music. Catch up-and-coming local performers and see the town's quirky art scene out in full force. Craft brews for the parents, arts and crafts for the little ones – sounds like summer in Warren to us. Warren, August 5.

Summer's for chowder, and there will be no shortage of it at Fort Adams State Park for the Great Chowder Cook-Off. Enjoy all the chowder you can handle, show the world your skills at oyster shucking and slurping competitions, and enjoy live music, local brews and more. Kids under 12 get in free, and get to roll up their sleeves for a shellfish dig. June 2, Newport

In Bristol, the Fourth of July is really a year-round affair, but the annual celebration kicks into high gear on June 14 for Flag Day at Bristol Town Common, followed by the Fourth of July Ball at the Rhode Island Veterans Home on June 16. The concert series at Independence Park plugs in and rocks out for 13 nights starting June 21. It all leads up to the big show on July 4, the annual Fourth of July parade. You've no doubt already claimed your spot on the parade route. Wait… you haven't?! Bristol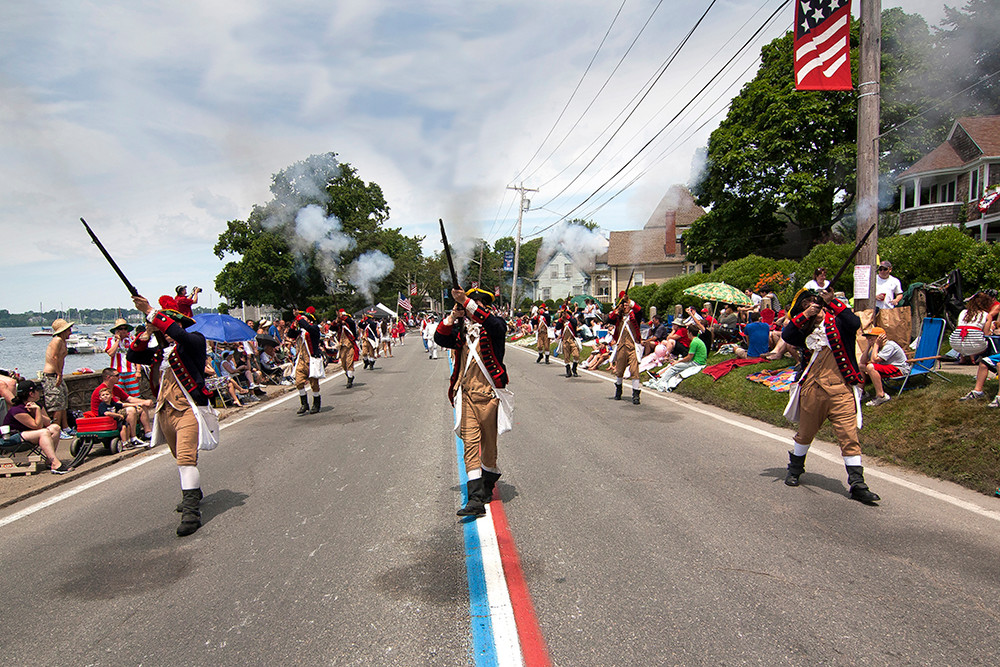 Photo courtesy of the Bristol Fourth of July Committee
We've never met a quahog we didn't like, especially at the Warren Quahog and Arts Festival. The annual celebration of that most Rhody of seafoods pairs local vendors and tons of food with lots of music and art for kids to enjoy at Burrs Hill Park. Just make sure they mind their Ps and Qs – parents and quahogs that is. July 21-22, Warren

Start your engines! The British Motorcar Festival is making its annual cruise to Colt State Park. Ogle some of the finest cars ever produced on the other side of the pond as collectors from all around show off their sweet rides. If you've got a slick British car, join in. If not, marvel at the fleet of pristine automobiles. Be sure to point out to your kids that "they just don't make 'em like they used to." June 8-9, Bristol
Art Happens Here
East Bay artists bring the museums to the streets with arts festivals and events all summer long. Make sure these are on your family's "to do" list.
The Barrington Arts Festival pitches its tent at Barrington Town Hall for its fourth year, with artists and makers of all disciplines selling and demonstration their work, and arts activities for kids of all ages. June 10, Barrington

Tiverton Four Corners Arts and Artisans Festival will have 60-80 artists on the lawn at Mill Pond Shops for its 31st annual curated showcase. Between browsing the work, check out the food trucks and live music. July 21, Tiverton

Offering a peek into the inner sanctum of area artists, the South Coast Artists 15th annual Open Studio Tour lets guests see how beautiful works come together. Visit painters, fiber artists, sculptors, and more across Dartmouth, Westport, Little Compton, and Tiverton. Who knows, you might end up with an inspired little prodigy on your hands. July 21-22; August 18-19. Various locations

The Looff – East Providence Art Festival is exactly as advertised: "a whirlwind of art, music, and life." Explore all that an artistic world has to offer in Crescent Park, and don't forget to take a few spins on the historic carousel. August 11, East Providence
Happening the last Thursday of the month through September, Art Night is the perfect way to explore the wealth of art that Bristol and Warren have to offer. Walk or ride your bike from one gallery and studio to the next, or hop on the free trolley (we're just going to preemptively say your kids will want to ride the trolley). June 28, July 26, August 30, September 27. Various locations