Tiffany Peay Jewelry is an eclectic shop in Tiverton Four Corners. In the warmer months, flowers bloom around the front porch, and birds visit the feeder that dangles beneath its peach-colored sign. The building is a former cottage with a peaked roof and brick walkway. Peay's commute isn't long; she lives directly across the street.
"It's a lot like the Cape, but way better," says Peay, a Virginia native. "There's no traffic. And you still get that feeling of remote, beautiful New England."
Peay sells jewelry, which she makes herself out of rare stones. For 11 years, she has headquartered her business in Tiverton, starting as a jewelry wholesaler and then turning it into a retail outlet. Peay opened a second seasonal location in Newport, and keeps her Tiverton shop open year-round. She has served as president of the Tiverton Four Corners Merchants Association. She's seen businesses open and close, including a beloved children's store and a high-end knitting shop.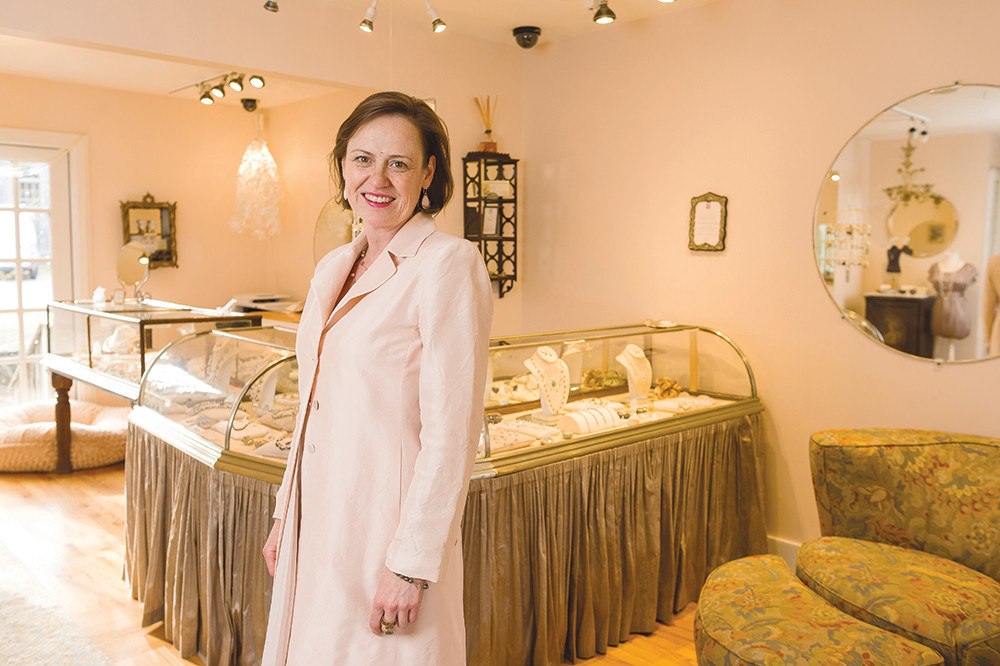 Tiffany Peay – Photo by Stacey Doyle
Peay has succeeded because she's a smart entrepreneur and knows her market – and her community – well. Yet here's the surprising part: most of Peay's sales are done in person. Customers show up at the physical store, they browse her collection, and Peay personally rings up their orders. Yes, the jeweler has a website and uses social media; in theory, a visitor could order one of her necklaces from a smartphone in Dubuque. But that's rare, especially in
the summertime.
"I wouldn't say my website is a strong sales force," says Peay. "In Tiverton, I get a lot of walk-in traffic. I have a lot of repeat customers. People know my name."
Tiverton Four Corners is no metropolis, but there's plenty to do on this quiet crossroads. If you park near the corner of Main and East roads, you can while away a whole afternoon – at Arch Contemporary Ceramics, at Cutie Curls, at Provender Fine Foods, at Four Corners Grille – by walking only a few hundred feet in any direction. There aren't a lot of chains here. The nearest Starbucks is nearly nine miles away.
This down-home atmosphere is exactly why people visit. Peay says that people come from all over the state and beyond, to take in the Farmcoast charm. For locals, these tight-knit commercial districts maintain the town's sense of identity. This is what "main street" does best.
Small Towns, Big Pride
In a way, Route 114 is one long Main street, tethering the towns together, its curves dotted with storefronts. Lots of towns have a street called "Main," but Bristol County has preserved its historic districts in ways that many other counties have not. Box stores have not drained the East Bay of its vitality. Busy interstates haven't bypassed Warren and Bristol. These aren't bedroom communities, but real communities – and in many ways, it's the small businesses that kindle that idyllic atmosphere.
Take Denise Nehez, owner of C&R Mercantile. A Connecticut native, Nehez worked for years in customer service. But after she moved to Bristol in 2003, she started to daydream about opening a corner grocery store. After 14 patient years, it happened: she wrote a business plan, found a 200-square-foot commercial space, and set up shop.
"I have worked in downtown Bristol in numerous restaurants and shops, learning as I went along, taking away business dos and don'ts," Nehez says. She says that neighbors, friends, and even the Health Department have all been instrumental in getting her venture off the ground. She uses social media to publicize the store and even ran a successful GoFundMe campaign. But the real benefit of working in Bristol is the town itself.
"I am in a great walking section of town, with a decent amount of parking," Nehez says. "Some people come in just because they need to be greeted with a smile, because they are having a tough day. I like that they find my shop a place of comfort."
A five minute walk from C&R, another storefront stands right on the water: Harbor Bath & Body. Before opening her shop, Lynn Shaw worked as a mortgage loan officer. But the Warren native had always had an affection for soap baskets, which her husband gave her for Christmas every year. Then there were two accidents of fate: she suffered a back injury, which made it painful to sit in an office, and she spotted a vacant commercial space on Bristol's waterfront.
"I really didn't have any retail experience," Shaw recalls with a laugh. "But you learn as you go."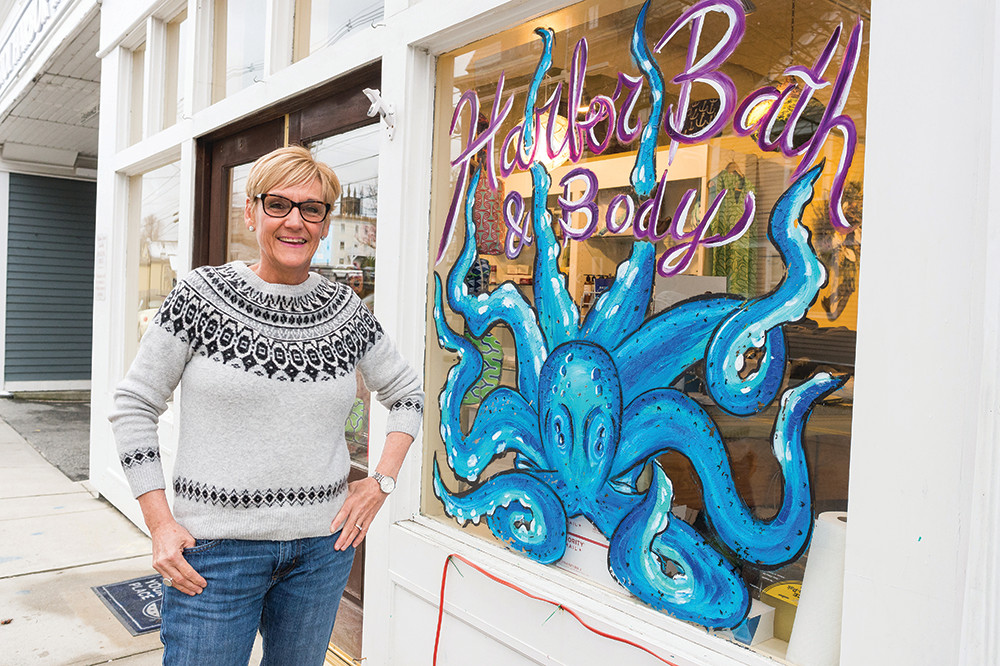 Lynn Shaw – Photo by Stacey Doyle
In May, Shaw will throw a party to celebrate 10 years as a proprietor. She's active in the Bristol Merchants' Association and helps plan events in town. Shaw still has a day job, working at Bristol Marine, so she relies on two employees and the encouragement of her neighbors.
"I have met so many nice people, who are now my friends," she says. "My husband will go out and be like, 'Is there anyone you don't know?'"
Similarly, there's Sharon Hayden, who had little experience in tea before deciding to open The Happy Snail Tea House in Warren. Her expertise is in holistic wellness, but Hayden wanted to create a place for relaxing conversation. She spent an entire summer sampling herbal teas at home and learning about their flavors and properties. When The Happy Snail opened, Hayden sourced her teas locally from Water Way Farms in Barrington.
Since opening last November, Hayden has found layers of support from her neighbors. "Warren is terrific," she says. "People are very encouraging. They like to walk around in this town, and they like another place they can come and relax."
It's hard to believe that The Happy Snail has no Wi-Fi, but Hayden insists that patrons should unplug and interact with each other, or even just enjoy the quiet.
"I know for some people that's scary. But after they do it for a little bit, they find it's kind of nice."
Most of Hayden's customers come from Warren or surrounding towns, but some have journeyed from as far as Boston to sample her selection. "If you're into teas," she says, "you'll travel an hour."
Sharing Is Caring
People love to chuckle about those "Rhode Island moments," because there are so few degrees of separation. But East Bay proprietors don't just know each other; their relationships often overlap. Even their daily operations may take place under the same roof.
One example: The Collaborative in Warren, which started as a late-night conversation between Uriah Donnelly and Jeff Danielian. Following some lofty talk about opening a movie theater, Danielian blurted, "What this town needs is an artists' co-op."
They didn't really know what an artists' co-op was. But after many Monday evenings talking it over, they devised The Collaborative, a community center for artists of all media. For the past two years, the center has stood on 498 Main Street, with support from RISCA and the Taco/White Family Foundation, hosting workshops and showcasing a range of visual artists. Donnelly now serves as president, Danielian as vice, and Adam Tracy as treasurer.
"All the founding members of The Collaborative live in Warren," says Donnelly. "There is a strong sense of community here. Supporting each other is the only way we will all be successful."
Down the road a bit, there's Hotpoint Emporium, a brand-new art showroom in Bristol. Nearly 30 artists display their work there, and like The Collaborative, Hotpoint is described by its founders as an artists' co-op.
"The store is still in its infancy," says co-founder Andrew Thomas Nasser. "But we have had countless artists looking to become featured members. We are all part of a larger whole, with the vision of bringing something great to Bristol.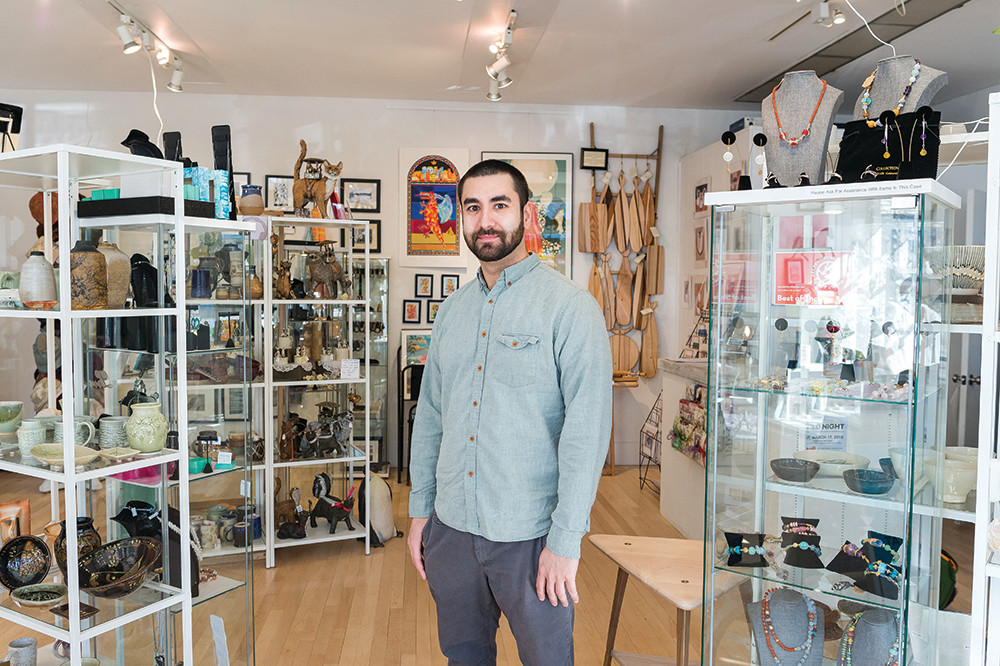 Andrew Thomas Nasser – Photo by Stacey Doyle
Everyone works shifts, but we also have specific duties that are tailored to our skill sets. We have people in charge of public relations, finances, the general aesthetic of the store, event planning, you name it. So I think that makes us something different than a store."
Many entrepreneurs thrive in this communal atmosphere. Hope & Main, the now-famous kitchen space in Warren, is abuzz with activity, from granola maker Sacred Cow to the all-vegan Backyard Food Company. Its Incubator Program offers courses in food safety, branding, and management for aspiring restaurateurs. Hope & Main and The Collaborative share similar missions: to gather creative people in the same space, then give them the instruction and resources to develop their own concepts – and, eventually, brands.
Pretty as a Postcard
Matthew Amaral wants Barrington to thrive. He grew up here. He's spent nearly his entire life here. He not only works as a senior account executive at OceanPoint Insurance Agency, he also owns Grapes & Grains, a specialty wine shop just off County Road. Amaral has that rare ability to see his town in its totality – its people, its businesses, and the public amenities that are the bloodstream of daily life.
"Being a small business owner is a labor of love," Amaral says. "We're top-heavy in Barrington, with salons and banks. We lost our antique stores, which used to support the foot traffic to restaurants and coffee shops. I could have gone to Seekonk and opened [Grapes & Grains] there. But I believe in community. I believed there was a need for a specialty boutique."
Years ago, Amaral helped open several Capital Grille restaurants across the U.S. When family obligations mounted, Amaral started his insurance career in Barrington. But he missed the excitement of a new venture. Opening Grapes & Grains in 2012 was a challenge, because Barrington was technically a dry town, and Amaral had to change the old ordnance that forbade Class A retail.
Opening the store appealed to his love of fine wines, and it also gave Amaral a leading role in Barrington's commercial culture. He joined the Barrington Business Association, which had been founded only the year before, and became chair of the board of directors.
Barrington is different from neighboring towns, because the residential streets are more spread out. There is no "Main Street," and the Village Center is more like a pedestrian mall. Still, the BBA is using a similar approach to the other East Bay towns: they have invested dollars in signage, banners, and neighborhood beautification. The BBA hosts quarterly networking events, largely geared toward Barrington's 421 "professional service companies," which far outnumber retail and hospitality.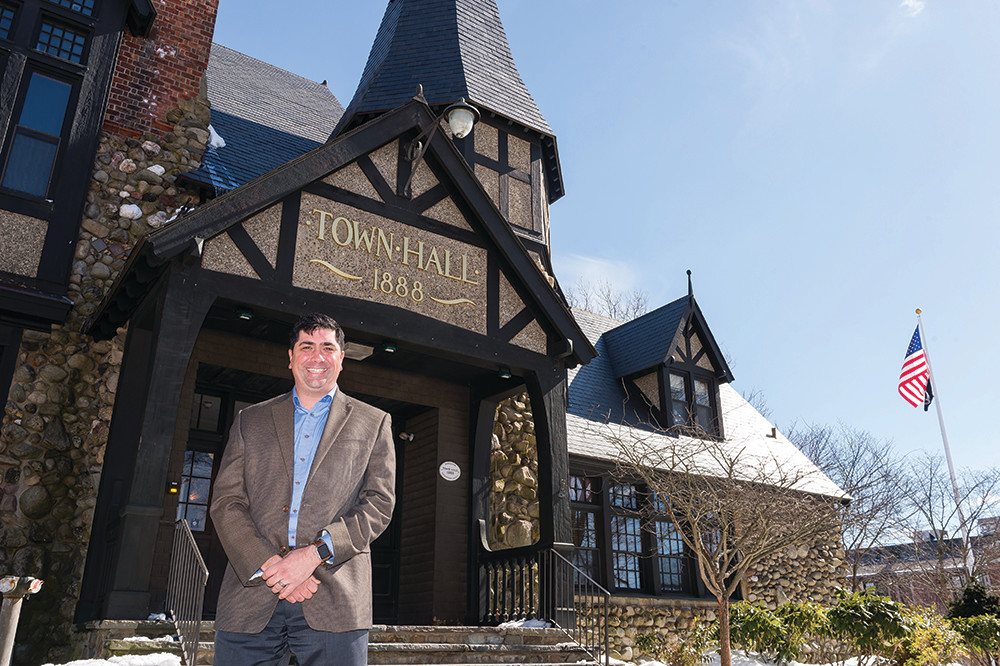 Matthew Amaral – Photo by Stacey Doyle
"That's how businesses grow," Amaral notes. "Through networking and aligning relations. We're trying to use Bristol and Warren as a model. I've had many meetings with the East Bay Chamber. Each town has its own business association, which all work independently of each other. But we're all trying to accomplish the same thing."
Amaral is especially proud of the money that is reinvested in Barrington. The BBA has given funds to the food pantry, the library, and the Barrington Recreational Department. They have sponsored movie nights and
summer concerts.
These civic collaborations are visible throughout the East Bay. In 2016, Bristol applied for an $80,000 grant from the Main Street Rhode Island Streetscape Improvement Fund, a division of the Rhode Island Commerce Corporation. The grant paid for new signage downtown, to help visitors find attractions and parking. Like its neighbors, Bristol is full of municipal landmarks – a walkable business district, a sprawling waterfront, and road paint in the tricolors of the American flag. At night, strings of lights crisscross the rooftops, to the wonder of passing drivers.
The rest of the state is taking notice, of course. Just as outsiders have talked about Providence as "the next Silicon Valley," some folks describe Warren as "the Brooklyn of Rhode Island" – a storied old town with an energetic creative class.
"I don't think we look at it that way, honestly," says Donnelly, back at The Collaborative. "We aren't setting out to make Warren anything. The hope is that development brings people who will shop in our shops and eat in our restaurants, but also folks who love living here as much as we do. I can't speak for everyone else, but we are just doing what we love in the town we love."