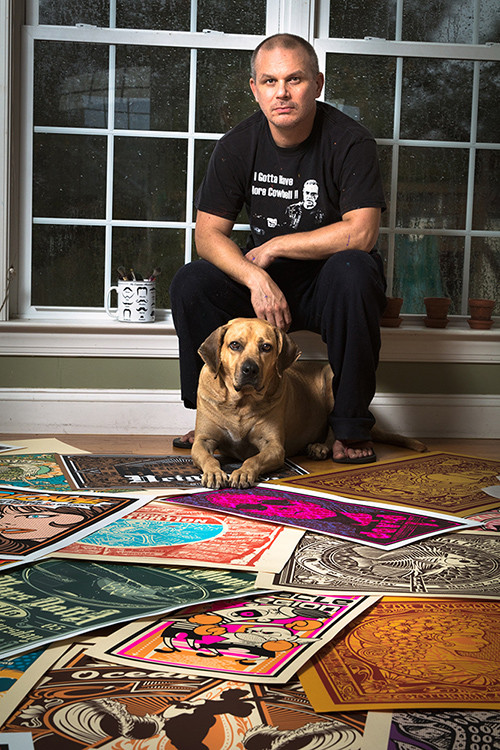 I first encountered the Swamp Yankee by chance, when the poster for Wakefield's Oktoberfest caught my eye. It was a complex art deco design in blues, greens and yellows, centered on a large crane surrounded by fleur-de-lis, corn stalks, Olympic flames and fish. It looked regal, grounded in nature but elevated, stylized but not cartoonish.

Pete MacPhee is the Swamp Yankee, a graphic design artist in Portsmouth. On his website, intricate art deco pieces like the Oktoberfest poster keep company with ghoulish skulls, Edo-era samurai woodcuts and pop art pointillism. The designs he pumps out for musicians, block parties, motorcycle sales and beer cans veer in every stylistic direction, almost always deploying one central design (a bird, a forklift, a yellow jacket, Joe Strummer) whose detailed vividness gives it the impression of an icon, almost religious in aspect.

He explains the influences behind the Wakefield Oktoberfest poster: art nouveau, German folk art and vintage wallpaper. It's "kind of hippy dippy" in Wakefield, he says, and "for some reason art nouveau gives me that hippie, natural feel. I think the people kind of dig it down there."

Pete spent most of his childhood in Narragansett. In the early '90s, he collected a degree in fine arts and illustration out in Rochester and moved to Providence to start his career as a working artist the way so many do: freelancing. This meant some graphic design as well as working as a dispatcher for the ProJo, bringing newspapers to customers who hadn't received them. On slow dispatching days he would sit in his car and draw.
And fatefully, he began to silk-screen T-shirts and posters for local bands. Those local bands started opening up for bigger acts. He started doing design work for the Dropkick Murphys, a collaboration that continues to this day. Pete estimates that he's designed "80 percent of their artwork, album covers, stage sets." He's also done years of work for Social Distortion and the Mighty Mighty Bosstones – including the stage set when the latter performed on Jimmy Kimmel Live!, with Kimmel on sax.

But before converting completely to the art side of the music biz, Pete served his time onstage, including playing the cowbell in a band called Randy Pinto and the Galactic Boots, playing the keyboard in an eighties-style euro-dance band called Music By Otis, and then handling the props for a "dirty heavy metal band" called the Amish Alcoholics. "I would do the explosions. It was kind of like Spinal Tap but worse. At the time I was heavy into printing shirts and doing a lot of stuff for local wrestling organizations. I knew these two guys, Half Nelson and Tiny the Terrible." He contracted them for "50 bucks and a pint of brandy" to perform with the Amish Alcoholics. Unfortunately, he says, he had not yet learned to give performers their liquid payment after the show; "they got completely drunk" and refused to change into their Roman guard outfits. "Then it all went to hell."

The strategy was simple for Pete and his fellow freelancers: "We'd go see who's coming through, we would draw up a poster, show up to the show, say, 'Do you like this poster? Can we sell it?" And when the merch guys liked their work, "they would page you when they'd come around next time." (Pete pauses here to make sure I know what a beeper is.) "When I got Social Distortion, I got it through the merch guy. Then he changed to Jimmy Buffett, so I did a little work for Jimmy Buffett." The exchange works out for everyone: "A lot of those guys make percentages of sales when they're on the road." And he had a skill that everyone seemed to need back then: "I had a knack for drawing shamrocks with skulls."

Now Pete estimates that 70 percent of his business is musician work. "The pay's not that great," he admits. But "some of it I do pretty well." In particular he's carved out a niche among "Irish pub bands. I'm kinda known for the Dropkick Murphys." He also designs for American Celtic punk band Flatfoot 56 and "I have a friend who's trying to talk me into something for Flogging Molly."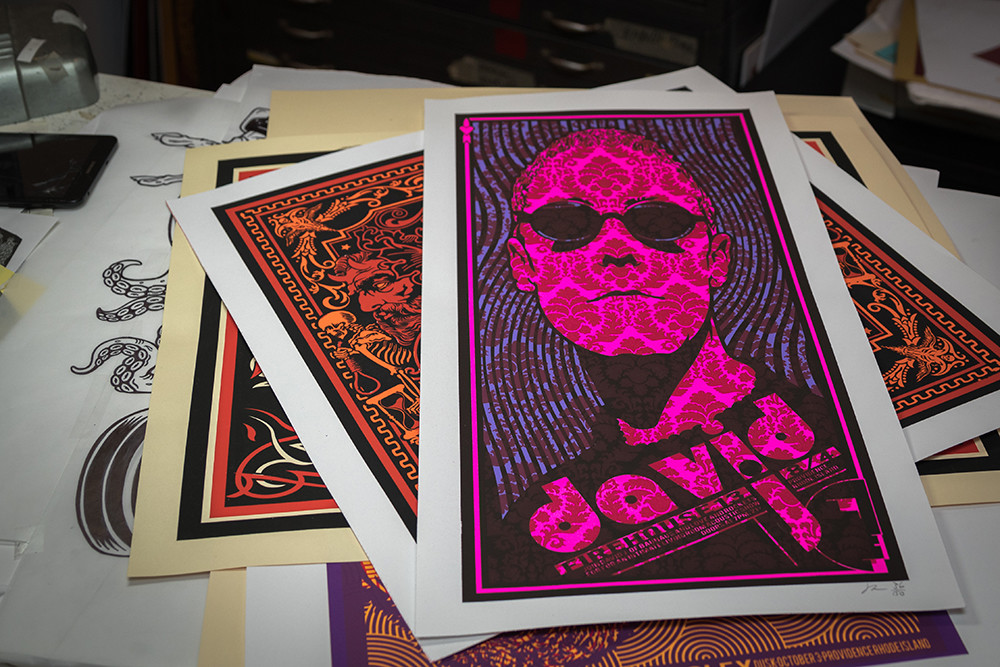 Even as his posters gain in popularity, Pete has a strict no-reissue policy: buy the posters when they're made or don't buy them at all. This, it turns out, is partly on the musicians' behalf and partly a self-care practice: "There's one Social Distortion poster I'd love to reissue, but I don't do it. I don't have time and it's just kind of gentleman's agreement with the band." Then: "I print a lot but I hate printing, it drives me insane. I become a huge worrywart when I'm printing." The posters must be printed one color at a time; the Wakefield poster used five. Sometimes he's commissioned just to create an image in various formats (for Facebook, for posters, etc.); then the customer will make their own copies at a print shop.

Pete's work has brought him into contact again and again with some of the most well-known names in music. He designed a T-shirt for Black Sabbath when the band had its first reunion—that summer, when he was living in Newport, "I did a lot of heavy metal: Mötley Crüe, System of a Down. Then the next summer I did Bob Seger, Lindsey Buckingham, '70s rock bands." He did a poster for Blondie and, thanks to a connection with the merch woman (of course), took his then four-year-old daughter to watch the band warm up. He's designed for the Cult, Linkin Park, Kid Rock ("when he played the Met. He kind of looked like Vanilla Ice"). He used his last $200 to design Iggy Pop posters, showed up at the show and asked about selling them. He wound up making $800 and spending the night talking to "this kid, kind of a big guy," who he later found out was Iggy's son.
But that spontaneity and ease with which Pete managed to connect with some of the biggest bands in the '90s and aughts has become harder to rely on, he says. "Nowadays merch is a big thing. Bands don't make money off of record sales, just merch." Anxious to protect one of their only sources of income, they're much less likely to let a stranger sell his homemade posters at a show.

But Pete keeps busy at his studio, juggling commissions from musician customers, his freelance clients, and a little corporate work. A fan of Social Distortion happened to work at Toyota ("he's like the top Toyota forklift salesman on the West Coast") and now Pete's doing calendars and technical drawings for them. He's designed a Lovecraft-themed beer can – complete with a ship, waves, a lighthouse and a central, all-seeing eye – for Narragansett Brewing Company. He sells his posters at street fairs four or five times a year – "it gets me out of the house, gets me freelance work" – which has led to gigs with various and sundry clients, including a plumbing company and a dog food brand. "I have no scruples," he says.

But that scrappiness, the sprawl of different styles and clients and the odd way his career has unspooled seem to fit the name he chose for his work. Swamp Yankee is a New England redneck, he explains. "My dad was kind of a Swamp Yankee; he collects [stuff] and leaves it in his yard." Even with the internationally known bands and the stage sets seen all over the world, he's still designing posters for fall festivals and garage sales in Providence. Swamp Yankee has "a bit of a local twist." And ultimately, "I just like the name."