Drive through the backroads of our small state and you'll quickly realize how much farmland – more than 69,000 acres! – there is. Of Rhode Island's 1,243 farms, top commodities include dairy, apples, sweet corn, potatoes, and greenhouse and nursery products. But each farm offers a unique bounty of fresh produce, community events and more. Here's a quick cheat sheet of what East Bay farms have to offer, plus a spotlight on a few of the farmers who make it all happen:

Sweet Berry Farm
Middletown's Sweet Berry Farm spans 100 acres. The centerpiece: a farm market and cafe that sells its own seasonal fruits, veggies, cut flowers, premium ice cream, and a selection of gourmet and specialty foods. Though named for its strawberries, raspberries, blackberries and blueberries, the farm offers a broader selection of pick-your-own items, including apples, peaches and pumpkins.

Quonset View Farm
Quonset View Farm overlooks the shoreline of Aquidneck Island and covers 140 acres in Portsmouth. Pumpkins can be picked during weekends in October. The farm also grows and sells rhubarb, and is known for its potato production. Currently, Quonset View Farm is one of only a few potato farms left on Aquidneck Island. Note: this is a cash-only facility.
Frerichs Farm
Frerichs Farm in Warren hosts a giant pumpkin weigh-off on October 7, a pumpkin palooza (which includes a pumpkin coach and a Western Town) every weekend through the end of October, a pumpkin drop (where a giant donated pumpkin is hauled up and dropped for a spectacular explosion) and more family activities throughout the season. The gift shop, housed in a barn, offers custom-made pieces, gifts and ornaments. The farm has 11 greenhouses, roughly 20,000 mums, and a variety of annuals, perennials, herbs, vegetables and more.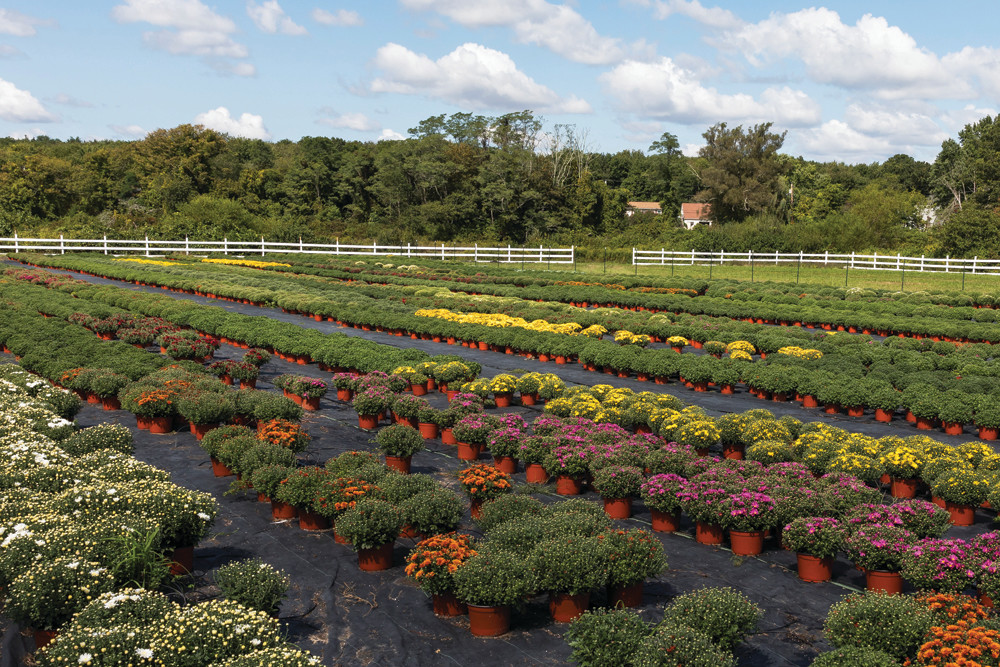 Meet the farmer: David Frerichs, owner of Frerichs Farm
A typical day: "I usually wake up around 4am, and the first thing I do is watch Michelle Muscatello for the latest weather update. I make sure my water systems are all working properly, and have a hearty breakfast to give me energy for the day. Then, I go to my calendar of work orders to make sure everything is ready for pickup or delivery. After that, I make sure our Western Town, pirate ship, hayrides [and other activity offerings] are all ready for our farm visitors."

Keeping up with the times: "The technology is getting better – I've updated my equipment that works faster and better, which allows us to get done sooner, and it gives me a little extra time to step back and take a look at the world and see what we can do to make it a better place to live in."

Getting the good bugs: "They keep coming up with more organic pesticides, which is really good because we've never been big on pesticides around here. And now they're selling beneficial insects, where you can buy a species of [good] bugs and basically clean up your [bad] bug problem without having to resort to some strong chemical."
---
Coggeshall Farm Museum
Coggeshall Farm Museum, located on 48 acres in Bristol, is a living museum that depicts what life was like on an eighteenth-century farm. Interpreters, donning the clothing of that time period, perform daily tasks – from milking cows to making candles – and guests can choose to get involved. The property is home to livestock and fowl, an heirloom kitchen that features more than 60 varieties of vegetables, fruits and herbs, and more. For those interested in learning sustainable methods firsthand, check out the museum's calendar for workshops.

Simmons Organic Farm
Two words: goat yoga. That's right, Simmons Organic Farm, sitting on 120 acres in Middletown, was the first in the state to offer this new yoga trend, which is exactly what it sounds like: an outdoor yoga class in which participants are surrounded by baby goats. The farm, which specializes in growing traditional and heirloom produce, is also known for its farm stand, a community-supported agriculture program (CSA) and a petting zoo, offering visitors a chance to get up close with goats, lambs, a pony and more. Simmons Farm offers fresh eggs, grass-fed beef, pork and its own cheeses, made fresh daily using the farm's own goat and cow milk.

Mount Hope Farm
Operated by the Mount Hope Trust, Mount Hope Farm is a national historic site housed on 127 acres of land in Bristol that includes a year-round farmers market, an award-winning 12-room bed and breakfast, a Civil War–era barn you can rent for weddings and other functions, a resident 4H program and a kids' summer camp. Also on the property are hiking trails, an education center and farm animals (sheep, chickens, goats, donkeys, oh my!). Its produce – roughly 1,600 pounds all together – is donated to a food bank.
---
Meet the farmer: Gina MacDonald, executive director of Mount Hope Farm
Lots on the schedule: "This time of year, kids come to camp, we might have URI master gardeners volunteering in the gardens. We also have volunteers who maintain our flower beds. The Inn is quite busy this time of year, and [recently] we finished our major fundraiser, Cool Jazz, with just under 500 attendees. So, there's a lot of moving parts."
A new crop: "At the farm itself, five years ago, we weren't growing anything. And this was our first year of growing a cash crop that started in the greenhouse. Historically, Mt. Hope Farm was more intensively farmed than it is now, so we're in the process of updating our strategic plan and taking a look at what we should be doing in terms of making the cultivation more efficient."

Here's to the locavores: "I think that as the farm-to-table movement continues to escalate, people are appreciating more and more the value of buying and eating something that's grown as close to home as possible.
---
Four Town Farm
Four Town Farm in Seekonk has been around for five generations and offers locals fresh produce for seven months of the year. Its farm stand sells flowers, fruits and vegetables. With more than 30 crops grown on-site throughout the year, Four Town Farm is best known for its asparagus, melons, sweet corn and strawberries. The farm offers pick-your-own strawberries, raspberries, peas, flowers and pumpkins.
Escobar Farm
There's art in everything. But have you ever been introduced to the art that is corn maze landscaping? Escobar Farm in Portsmouth features an eight-acre corn maze, which has, over the years, been sculpted into the Providence Bruins logo, farm animals and more. Visitors can also stay at the property's Farmhouse Inn, take a hayride and visit the pumpkin patch. And at the root of the operation is a dairy farm: Escobar's Highland Farm.
Young Family Farm
Young Family Farm was established 20 years ago in Little Compton. There, you'll find a family-run farm stand with fresh farm crops, homemade pies and pizzas with fresh vegetables from the farm, an apple orchard (mark your calendars for its Columbus Day weekend Apple Festival), and pick-your-own options, including apples, pumpkins, flowers, sugar snap peas, lettuce, spinach, kale, and red and golden beets. Young Family Farm also operates a small wholesale potato business. Spanning 300 acres, the farm is one of the three largest in the state, with 100 acres devoted solely to potato production.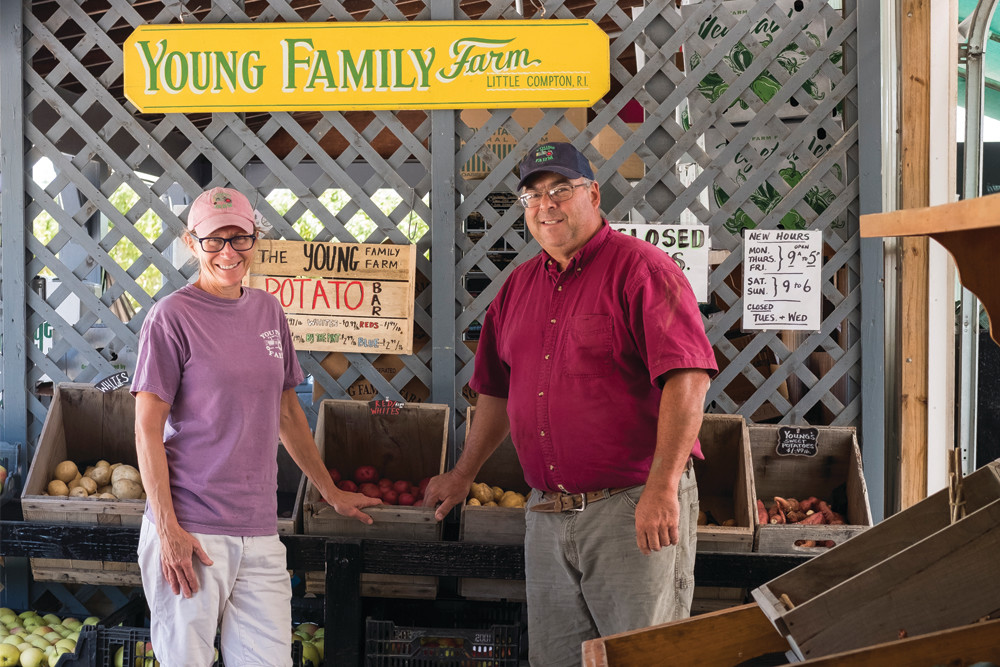 Meet the farmer: Tyler Young, owner of Young Family Farm
A packed day: "It depends on what time of year it is; every day is different. This time of year, we start at 6am. My guys get in, we start picking corn, deliver corn and vegetables to different Stop & Shop stores, Shaws stores, and different retail stands, and the day usually ends at 6pm. Then, we go home and do book work. We also make sure the farm stand stays supplied throughout the day, especially for weekends."
A legal battle: "It's important now for farmers to keep an eye on what's going on in legislation. You've got to be so political now. We've been battling this new Food Safety Modernization Act [FDA.Gov/Food/GuidanceRegulation/FSMA], which is a federally mandated act that has a lot of overreach by government, and that's a big concern for us because we've been doing this for generations and understand food and what needs to be done. Once they take that away and dictate how we should be doing things, you lose growers who can't comply with some of these regulations. And that's the problem: the government thinks they can make this a kitchen out here. It's not a kitchen; it's a biological entity."

The future of agriculture: "I'm kind of scared. I have a feeling, with the way legislative things are going, they're trying to push agriculture out of here. I hate to say that. People want agriculture, they want the farmers here, they want the open space and the fresh food. But if the public doesn't pay attention, [as an industry] we could be in trouble."